400mg Imatinib Tablets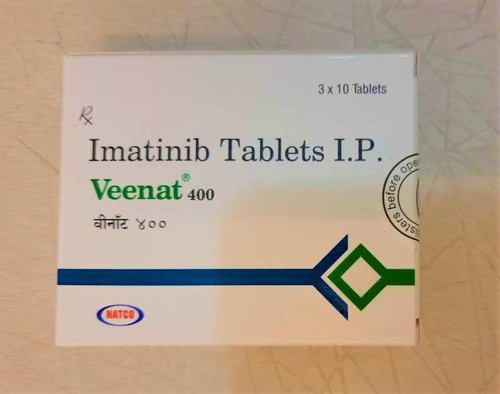 400mg Imatinib Tablets
Product Description
VEENAT 100mg :-
Each capsule contains Imatinib Mesylate equivalent to Imatinib 100mg.

matinib Mesylate is a protein - tyrosine kinase inhibitor that inhibits the Bcr-Abl tyrosine kinase, the constitutive abnormal tyrosine kinase created by the Philadelphia Chromosome abnormality in Chronic Myeloid Leukemia (CML).

Indications :-VEENAT (Imatinib Mesylate) is indicated for the treatment of patients with Philadelphia Chromosome positive Chronic Myeloid Leukemia (CML) in blast crisis, accelerated phase, or in chronic phase.

Dosage & Usage :-
Therapy should be initiated under experienced medical guidance in the treatment of patient with Chronic Myeloid Leukemia (CML).
The prescribed dose should be administered orally, with a meal and a large glass of water. Doses of 400mg under chronic phase & 600mg under accelerated phase should be administered once daily or as prescribed by your doctor.

Side Effects:-Some common side effects that may occur as a result of the usage of Veenat, include - nausea, vomiting, diarrhea, muscle cramps. If these symptoms persist or worsen, contact your doctor immediately...

Note :- Veenat is a prescription drug and should be used under proper medical guidance and advice. Do not share the medicine with others, since they may be suffering from a problem that is not effectively treated by this drug....
Contact Us
4384/4A, S-3, 2nd Floor, Ansari Road, Darya Ganj, Delhi, Delhi, 110002, India
Phone :+918045804961