Erlocip-Erlotinib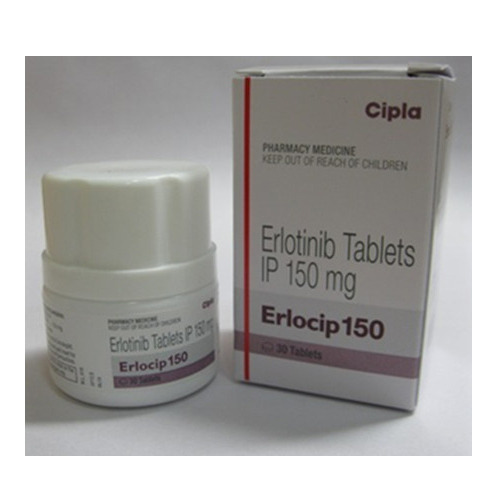 Erlocip-Erlotinib
Product Description
Erlocip-Erlotinib

Erlocip contains erlotinib and belongs to a class of medications called kinase inhibitors.

INDICATION

Erlocip is used for the treatment of non-small cell lung cancer.
Erlocip is used in combination with gemcitabine for the treatment of pancreatic cancer that has spread to nearby tissues or to other parts of the body.
MECHANISM OF ACTION : Erlocip works by blocking the action of an abnormal protein that slows the growth of cancer c ells. This helps slow or stop the spread of cancer cells.

SUPPLIED AS : Erlocip is available as 150mg tablets.

OVERDOSE : Symptoms of overdose associated with Erlocip may include diarrhea and rash.

PRECAUTIONS & WARNINGS.
Erlocip should not be taken without consulting your doctor if you have liver disease or lung or breathing problems (other than lung cancer).
Take Erlocip several hours before or several hours after if you are taking antacids.
Do not take Erlocip if you are allergic to it or to any ingredient in Erlocip.
Do not take Erlocip without consulting your doctor if you are pregnant. Discuss with your doctor the appropriate use of birth control during treatment with Erlocip. It is not known whether Erlocip passes into breast milk. Do not take Erlocip without first talking to your doctor if you are breast feeding a baby.
DRUG INTERACTIONS

The following drugs may interact with Erlocip:

nelfinavir, indinavir, saquinavir, ritonavir, rifampin, rifabutin, rifapentine, clarithromycin, nefazodone, telithromycin, troleandomycin, carbamazepine, phenytoin, ketoconazole, itraconazole, voriconazole.

SIDE EFFECTS

The side effects associated with Erlocip are difficulty breathing, closing of the throat, swelling of the lips, tongue, face or hives, shortness of breath, increased coughing, fever, chest pain, severe or persistent nausea, vomiting, loss of appetite, diarrhea, eye pain or irritation, skin rash, dryness, itching, acne, weakness, blistering, peeling, dry, or cracked skin, itching, tenderness, burning of the skin, growth of eyelashes on the inside of the eyelid, unusual bruising or bleeding....

Note:Erlocip is a prescription drug and should be used under proper medical guidance and advice. Do not share the medicine with others, since they may be suffering from a problem that is not effectively treated by this drug....
Contact Us
4384/4A, S-3, 2nd Floor, Ansari Road, Darya Ganj, Delhi, Delhi, 110002, India
Phone :+918045804961